Thirty Seconds To Mars Tickets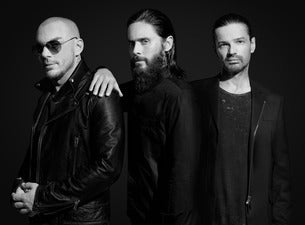 Thirty Seconds to Mars haben ein Zusatzkonzert für 2018 bestätigt:

Graz – 01. September 2018 | Stadthalle

Der offizielle Vorverkauf startet am Freitag, 02. Februar 2018 um 9 Uhr bei Ticketmaster.

Thirty Seconds To Mars spielen kraftvoll und melodiös getriebenen Alternative Rock. Vor fast 20 Jahren gründete Jared Leto die Band. Der Sänger und Gitarrist träumte immer schon von internationalem Erfolg in der Musikbranche. Nach ihrem zweiten Album "A Beautiful Lie" (2005) können sich Thirty Seconds To Mars mittlerweile zur Speerspitze der globalen Rockszene zählen. Das Nachfolgeralbum "This Is War" (2009) konnte diese Leistung nur bestätigten.

1992 zog Jared Leto nach Hollywood, um seine musikalische Karriere zu pushen. Gemeinsam mit seinem Bruder Shannon Leto gründete er 1998 die Band Thirty Seconds To Mars. Ihr gleichnamiges Debütalbum verkaufte sich auf Anhieb über 100.000 Mal in den USA. Diese nahmen die beiden Brüder im Alleingang auf.

Es folgten Konzertreisen mit verschiedenen Gastmusikern. Die nie-endende Tour zu "This Is War" bescherte ihnen einen Eintrag im Guinness Buch der Rekorde. In nur zwei Jahren spielten sie 309 Shows. Das schaffte noch keine andere internationale Rockband. Die Popularität von Thirty Seconds To Mars wuchs stetig. Mittlerweile gewannen sie schon drei MTV Europe Music Awards und zwei Kerrang! Awards.

2003 wurde die Band durch Gitarrist und Keyboarder Tomislav Milicevic erweitert. Auf dem Album "This Is War" wirkten auch viele Anhänger der Band mit. Fan-Nähe ist ein wichtiges Anliegen für Thirty Seconds To Mars. Ihr letztes Album "Love, Lust, Faith and Dreams" erschien 2013. Danach tourte die Band für fast zwei Jahre um die Welt.

Ihr neues Album "A Day in the Life of America" soll im Frühjahr 2018 erscheinen. Zeitgleich veröffentlichen sie auch einen gleichnamigen Film. Das audiovisuelle Werk gibt einen Einblick in die USA der Gegenwart. Thirty Seconds To Mars Tickets gibt es bei Ticketmaster.
49 Veranstaltung(en) für Thirty Seconds To Mars
49 Veranstaltungen
Veranstaltungen in

Österreich

(3)
Thirty Seconds to Mars

Di

19:30
Thirty Seconds to Mars l Platin Tickets

Di

19:30
Thirty Seconds to Mars

Sa

20:00
In anderen Ländern
Andere Länder
(46)
Thirty Seconds To Mars

Do

21:30
Thirty Seconds To Mars - Platinum

Do

21:30
Thirty Seconds To Mars- Closer to the Edge - Side Stage Package

Do

21:30
Thirty Seconds To Mars- Kings and Queens - Meet and Greet Package

Do

21:30
Thirty Seconds To Mars-Up in the Air- On Stage Package

Do

21:30
Thirty Seconds To Mars

Fr

21:30
Thirty Seconds To Mars - Platinum

Fr

21:30
Thirty Seconds To Mars- Closer to the Edge - Side Stage Package

Fr

21:30
Thirty Seconds To Mars- Kings and Queens - Meet and Greet Package

Fr

21:30
Thirty Seconds To Mars- Up in the Air- On Stage Package

Fr

21:30
Thirty Seconds To Mars

Sa

21:30
Thirty Seconds To Mars - Platinum

Sa

21:30
Thirty Seconds To Mars- Closer to the Edge - Side Stage Package

Sa

21:30
Thirty Seconds To Mars- Kings and Queens - Meet and Greet Package

Sa

21:30
Thirty Seconds To Mars- Up in the Air- On Stage Package

Sa

21:30
Thirty Seconds to Mars

Mi

18:00
Thirty Seconds to Mars - Platinum

Mi

18:00